This week, to huge applause in the office, it was announced that we are finalists at the BESMA (British Excellence in Sales and Marketing Awards) 2016, in not just one, but TWO categories!
Company Shortcuts has been selected as a finalist for 'Training Centre of the Year' and Nicola Cook our Chief Opportunity Officer and CEO, is a finalist for 'Sales Trainer of the Year'.
BESMA was established to recognise and reward the best sales professionals in the UK, showcasing their achievements and products, helping promote the art of selling across the country.
Nicola Cook, (right) is delighted to be a finalist in the Sales Trainer of the Year category, and said:
"These awards align tightly with Company Shortcuts' vision and I am honoured to be standing alongside my peers as a finalist, promoting a profession I am hugely proud to have worked in for over 20 years."
"Company Shortcuts exists to help businesses grow faster, in line with the vision of ambitious leaders, through bespoke sales training and business advice. Time and time again, sales leaders and business owners have applied our Sales Acceleration Model to great effect and I am thrilled that our commitment to professionalising sales, along with other industry leaders, is being recognised through these awards.
"I look forward to demonstrating to the judges how the research behind our training model and the results businesses see through it, are worthy of the Award."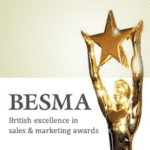 BESMA is organised by the Institute of Sales & Marketing Management (ISMM) – the UK's largest professional sales body and seeks to reward the efforts of the individuals and the teams that drive company performance and recognises the roles played by sales professionals in driving the UK economy forward.
As a team, we have worked extremely hard this year to expand our reach and adapt to the needs of sales professionals and entrepreneurs needing bespoke training solutions to enable business growth.
"The nomination for 'Training Centre of the Year'," said Nicola, "is a superb accolade for a team who work tirelessly to provide our clients with training that serves their needs and is the catalyst for improved results. Hundreds of salespeople and business owners have engaged with our Sales Masterclasses and Sales Leadership Development training to date and as we move into our third year of business growth, we aim to reach thousands as we scale up our business model for training."
"The UK is well known for its entrepreneurial spirit and if we win the Award, Company Shortcuts will use it to raise our profile so that we can reach more entrepreneurs and businessmen and women through our free resources, inspiring keynotes and business services."
This year BESMA will be held on 9th March 2016 at the stunning Grosvenor House Hotel, hosted by one of the finest comedians Dara O'Briain, with entertainment from the Legendary musician, producer and co-founder of the Eurythmics Dave Stewart.