11 actions to implement today that will immediately secure more commitment from prospects.
If you're not a native of the North East of England, like myself, (otherwise known as a Geordie) there's a good chance you won't have heard the phrase 'shy bairns get nowt'
Loosely translated it means, 'if you don't ask you don't get'. Geordies are known for being 'cheeky' and for brazenly asking for what they want.
Perhaps you and your sales team could do with an injection of Geordie-ness into your closing strategies to ensure that you too, get your just reward?
You're in business, I'm in business, the purpose of which is to serve our customers, and make their lives better. So why are we so tentative about asking prospects to make a firm commitment and become our customers?

The Close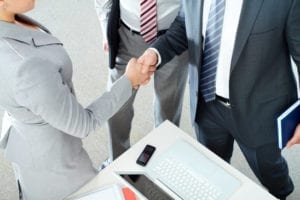 These two words elicit the most fear (and avoidance) from many in the front line of sales. It's the reason most people (especially those in the UK) try and steer as far away from being labelled a salesperson as possible. We like to think that if we're 'nice' and do our marketing right, customers will simply flood into our business.
'What if I ask, and they say "No"', is the thought that most people have when they are entering the closing stages of a negotiation? They would rather have a pipeline of 100 maybes, than three yes' and 97 no's.
What if?
'What if you never ask, and you lose the opportunity to serve that customer which would help them solve a really big problem or fulfil a need?'
And what if you really could have helped them? What if they really do have a problem they need solving, and instead of becoming your client they end up engaging one of your competitors – all because you didn't have the gumption to close!
Closing is the 4th stage in our Sales Secrets© sales training process we teach in all our Masterclasses and in-house Sales Academies. There are, of course, lots of things that you can do and say earlier in the relationship that will help you set-up a Win: Win close.
Understand that Closing is a Process
The client may make an emotional commitment in an instant, but there are a few more stages to ensure they become a customer. Every close is broken down into three parts:
The Emotional Close
The Legal Close
The Collection
Unless you are in retail or selling purely via digital transactional means, it's likely that all these three parts of your close will need to be managed as they are spaced out and don't all happen in some moment.
Most times a salesperson falls at the final hurdle, it's because they lose control between the emotional part of closing the sale, and getting the legal signature on the relevant paperwork.
In all these cases there are, of course, skills, particularly linguistic skills that you can learn, together with a well thought out strategy for each of these stages that works for your type of market and sales channels.
Here are my top tips that I would encourage you to action right now:
Build conditions into your initial close, which incentivises the customer to return the legal documentation within an agreed timescale.
Make sure you get your legal paperwork out fast after an emotional close, where the client has essentially said 'yes'. Instantly (within 24 hours), or same working day is best. You will find a direct correlation between lost or stalled sales and the turnaround time of your business terms.
Ensure you have templates embedded within the business for all the variables you can expect through each of these three stages – order forms, proposals, business terms, as well as the communication required to support the legal documents.
Take payment, (deposits or full), at the time of the emotional close where possible. Don't add in unnecessary delays to onboarding new clients, and receiving cash just because the 'normal' business process dictates otherwise.
Be prepared to make the ask more than once. Persistence is key. We have examples where we have asked over and over again (I think the internal record is around 15 times) for the client to actually follow-through on an original commitment.
Use different media to keep asking and vary your approach between follow-ups. Email, call, text them, drop them a notification on LinkedIn. Vary the approach until you get to the desired outcome.
Use electronic signatures for legal documents. Echosign or Docusign can massively improve your conversions from Emotional to Legal close. No more sending PDF's to be printed, signed, scanned or posted back to you. Make it as easy as possible for your clients to do business with you.
Build Collection of cash into your Terms. Ensure you have clear payment policies within your business terms including penalties for late payments etc. You may never need to or choose to exercise them, but they can be useful when chasing in late payments.
Do a credit check on customers, especially big deals, if a late or missed payment would seriously jeopardise the stability of your own business – manage your risk, and ensure this is also passed onto your sales team as a shared responsibility.
Only enter into a Negotiation, if it means you get the deal legally closed, or the collection made immediately. Be clever in how you phrase your closing statements, so if the prospect is hankering after a discount, only offer it on the understanding that if you do – they will agree to your terms and will make the final commitment.
Understand that when someone says No, (or more often than not, 'I'll think about it' – which is code for No by the way!) that they are not rejecting you personally, just what you've offered them.
IF YOU DO NOT GET YOUR HEAD AROUND THIS, YOU WILL AVOID MAKING THE CLOSE FOR FEAR OF PERCEIVED REJECTION – THIS MINDSET KILLS SALES!
And finally, learn from your No's. Do you need to improve your UDP (Unique Defining Proposition) so you offer better value, or do you need to attract more of your ideal clientele? Do you need to improve your closing process and streamline your internal systems to be able to react faster? Or do you and your team simply need better closing skills and strategies?